What color options are available with the 2019 Toyota RAV4?
By Product Expert | Posted in New models, Toyota RAV4 on Wednesday, June 13th, 2018 at 6:52 pm

Along with a totally revamped exterior design, the 2019 Toyota RAV4 comes with a few new color options, including two-tone paint schemes on certain trims. Take a look below to see the color options for the 2019 Toyota RAV4, which we will update as more images become available.
2019 Toyota RAV4 color options
First off, it's important to note the new two-tone color option for the 2019 Toyota RAV4.
RAV4 XSE Hybrid models come with a black roof that is paired with one of the following colors: Blizzard Pearl, Silver Sky Metallic, Magnetic Gray Metallic, or Blueprint (which is an all-new color).
Blizzard Pearl with black roof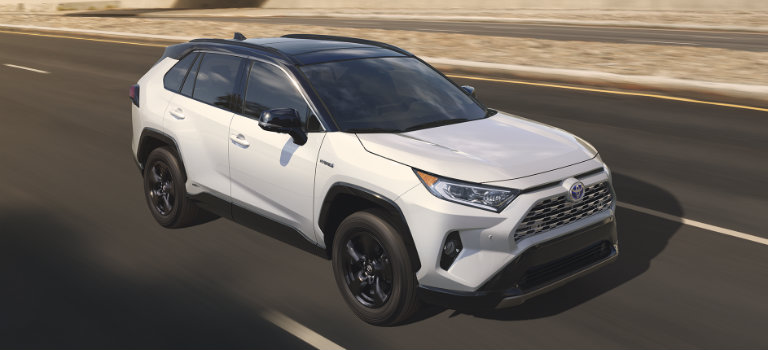 (More images coming soon!)
---
RAV4 Adventure trims have an Ice Edge-colored roof with one of the following options: Midnight Black Metallic, Blue Flame, or Lunar Rock. The former two colors are new to the RAV4, and the latter is all-new to the Toyota lineup.
Midnight Black Metallic w/Ice Edge roof
Blue Flame w/Ice Edge Roof
Lunar Rock w/Ice Edge Roof
---
Of course, the 2019 RAV4 also comes in a variety of full-body color options–9, to be exact. See them below!
Blizzard Pearl
Blue Flame
Blueprint
Lunar Rock
Magnetic Gray Metallic
Midnight Black Metallic
Ruby Flare Pearl
Silver Sky Metallic
Super White
---
Read more: Release date and new design of the 2019 Toyota RAV4
13 Responses to "What color options are available with the 2019 Toyota RAV4?"